Quality and Aesthetics
Wall-sheets and stiffeners are produced from S350GD+Z high quality steel which are optional for 275, 350, 450 gr/m2 galvanize coating,have minimum 350 N/mm2 tensile strength.All the loads about silo like, wind load, filling&unfilling loads are transmitted to the ground with the stiffeners.
Silo roofs are designed with 275gr/m2 galvanized, high quality steel custom products.With its overlapping design, our roofs have great resistance and tightness ability.We use strong crossbeams to construct 30* roofs.Both standart and custom designes are available, depending on the size, and the local external loads about roof systems.
High quality fitting elements are used during assembling process.Dacromet 500 coated EN DIN 933 bolts which are 10.9 quality standart and isolation straps are used to compose unique isolation with long lasting life.
Reaching safely to the top of the silo is possible with secure rear ladder and roof ladder.The relief on the ladder steps and the space between the wall-sheets and ladder are designed perfectly for safety.Platforms are located according to the ASAE S412 American Standarts, fort he workers to reach to the top in a safe and comfortable way. There are two entrance into the silo.One is located at the roof lets the access when the silo is full,and the other is located at the second ring level that lets the access when silo is empty.The second ring door has another inside door thats openning through inside which provide security when the silo is full.
Heat control and ventilation systems
These systems keep your grain without spoiling.Stored grain has the risks of moisture and insect.With the World's most sensitive equipments the heat inside the grain can be controlled. The power and capacity of the fans differ according to the grain type and silo size.The floor design and the settlement of ventilation grids are important for aeration.The air inside is thrown out with the help of exhaust fans from vents that has been settled up the roof.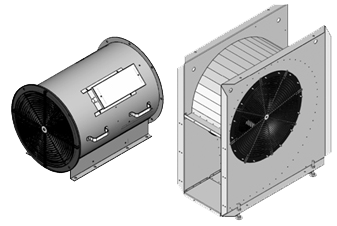 Silo wall-sheets & ladder systems
High strength steel , corrugated Wall-sheets, galvanized coating are some of the important specialities of our silos. We have standart productions between 4.57 mt – 32 mt diameters. Also extra dimentions are available for custom productions. Our at bottom silos are capable to keep wheat, corn, rice, soyabean, barley and sunower from 100 tons upto 15.000 tons.Silo wall-sheetshave tension strength 900.000 kgf/cm2 (63.200psi). 1.000.000kgf/cm2 (70.260psi) which makes us excelent comparing other products. Ladders and platformsa re compact production from galvanized steel.Vents are drilled with high technology punching machines.Both inner and rear ladders are attached to the silo wall with high quality bolts and pins.